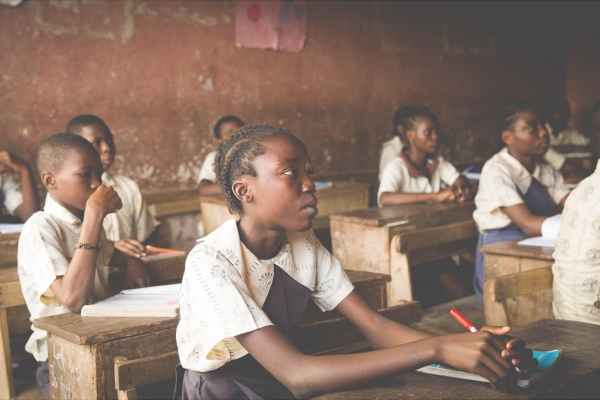 Pray for students around the globe
Schools around the states and other parts of the world are now back in session, but not back to normal.
Students have entered the classroom once again, but what does the new year ahead look like for those returning around the world? Similarly to the recent school year, many challenges still remain along with severe disruptions in academic progress. In difficult environments where students already have to overcome political unrest, economic difficulties, and in cases, war - the rise of COVID-19 cases are stressing the educational environment at large. As COVID-19 continues to be a concern globally, students are forced to adapt to increased restrictions, move to online learning, social distance, or in some situations, are not allowed to continue their schooling.
School in the United States
In the states, schooling for elementary and high school ages have returned to in-person classes after a year of remote classrooms. States are also facing masking policy changes at the height of recent COVID-19 cases, roughly a 70 percent rise, that experts associate with the delta variant of the wide-spread COVID-19 virus. Along with a spike in case numbers, reports show that the new delta variant has begun to affect larger numbers of young adults and children - concerning as schools re-open and determine the best approach for continuing education.
The rising concern for schools in Africa
In other parts of the world many communities are facing even greater challenges. Missionaries serving throughout parts of Uganda and surrounding countries reported that the effects of the pandemic are still widely being seen. At the end of a 42 day country-wide lockdown, many people are experiencing food shortages, are without work, and lack the basic necessities needed to support their families. Reports also bring shocking news. Due to the increased environment factors and lockdowns, Ugandan children have missed more than 300 days of school and even more to come. This comes in light of a large percentage of students globally, especially in Uganda, who do not have access to the internet, and therefore remote learning opportunities.
One Global Outreach missionary and teacher to Uganda reported that her classrooms are still facing challenges moving into next schooling phase. The president of Uganda has declared that all schools will be closed until teachers are vaccinated with an "acceptable amount" of children ages 12 through 18. This comes at a greater concern as Uganda, along with many countries, have still not received a proper amount of vaccines.
Ways you can pray for students
As the school year continues, you can join with other believers in intentional prayer for students during these difficult times. Here are just a few ways you can pray right now.
1. Pray their identity will be rooted in Christ
Discovering who you are in Christ at a younger age can be challenging, especially with tight restrictions and learning new culutres. Pray that they would not be discouraged. Rather, they would remember they are chosen, special, unique, loved children of the Father.
2. Pray for their community
Kids, especially those of missionaries, face many transitions and goodbyes. Pray that they will have meaningful, strong relationships. Pray that God will sustain them through life's changes and be loved simply for who they are.
3. Pray for their relationship with God
As younger kids are still learning about who Christ is, pray they would grow in personal relationship with God. Pray that they would hear God's call on their life.
4. Pray for Protection
Pray protection over students and children's lives. Pray for protection physically, mentally, and emotionally. Pray also that students will turn to God for comfort and safety and that God will provide intercessors when needed.
5. Pray for Blessings
Finally, pray that God will provide blessings in students life during this time. Pray God allows for friendships to be made and that they will be able to form connections with family that are farther away.
If you would like to make a difference and make a direct donation to help care for missionaries serving students around the globe, please consider making a donation to Global Outreach International.
Click here to make a donation and assist teachers around the globe.