Steadman and Alyssa Harrison
Steadman and Alyssa began their journey with Global Outreach International in 2005 with short term mission trips to Good Shepherd's Fold Children and Babies Home just outside Jinja, Uganda. The Gospel partnership that began in Uganda expanded to include countries around the world with a special love for Ethiopia and Jordan. In 2009 the Harrisons completed Missionary Orientation Training in Tupelo and in 2010 they moved from Greensboro, North Carolina to Addis Ababa, Ethiopia.

Steadman Harrison, MA/MTS, works in the marketplace. As the co-founder of the Leadership Beyond Boundaries movement, he established a pathway to democratize leader development bringing affordable, accessible, and scalable development solutions to more than 500,000 people. This marketplace work became known as Business as Mission (BAM) or Business for Transformation (B4T). Relational evangelism is at the heart of every interaction. Steadman is known as both a preacher and teacher of the Bible and a faith-friendly, bridge-builder, facilitator, and networker to friends around the world.

The Harrisons relocated to Tupelo, Mississippi in 2015 where Steadman served as the Chief Executive Officer and Mission Director for Global Outreach International for 4 years. GoInnovation was born out of a deep desire to bring together the Gospel and the Good around the world. God blessed this season of work and by His grace Global accomplished their 2020 Vision and Goals. We celebrate 50 years of catalyzing mission development in more than 50 countries! Steadman now serves as an Innovation Catalyst and Partner with GoInnovation (www.go-innovation.com).

After a beautiful sabbatical rest spent with friends in Jordan, the Harrisons returned to Addis Ababa, Ethiopia in 2019. Alyssa Harrison, M. Ed, is passionate about resilience and about using words creatively. Twenty years of teaching English and Creative writing in secondary schools have deepened these convictions. She returns to Ethiopia where she serves as both teacher and Secondary Principal at Bingham Academy, an international school serving students from more than 40 countries. She regularly speaks for Global Outreach International on teaching and learning resilience and seeks to bring the hope of restoration and rest to those serving in ministry overseas.

Liam Harrison completes his Senior Year at Bingham Academy and is applying to university. Ethan Harrison enters his Sophomore Year at Bingham Academy with a desire to graduate from Bingham in 2023. Miles is a Second Class Midshipmen at USNA and recently announced his engagement to Abby Hanby, a dear family friend studying at Samford University in Birmingham, Alabama. They will be married after Commissioning Summer of 2022.

Ministry Focus and Highlights:
- Work with schools: Administration and leadership for Bingham Academy in Ethiopia and support for Tupelo Christian Preparatory School in Mississippi.
- Church planting: Support and guidance for the International Evangelical Church in Ethiopia, support and guidance for house churches and new church plants in Ethiopia.
- Leadership development: Growing the work of GoInnovation with the private sector, non-profit, and government leadership development globally.
- Education, Emergency Medical, and Orphan Vulnerable Care: Our work includes meeting the needs of our neighbors and assisting the churches of Ethiopia as needed.

Prayer Requests:
- Our eldest son attends the US Naval Academy in Annapolis and we are celebrating his great work and grieving the distance at the same time.
- Praying for the ministry needs of the International Evangelical Church and the church planting efforts taking place in Ethiopia.
- Praying for a peaceful democratic election in Ethiopia in 2021.
- Praying for the leadership team and teachers annually needed at Bingham Academy.
- Praying for ministries and businesses of our friends and family in Jordan.
- Asking for God's blessing on Alyssa as she serves as Principal at Bingham and Steadman as he serves as Partner and Innovation Catalyst for GoInnovation.
- Asking the Lord to grow the work of GoInnovation and Global Outreach International.

You can reach us by e-mail at [email protected] and [email protected].
OR
RELATED MISSIONARIES & PROJECTS
The Bridges partner with an Ethiopian ministry, The Forsaken Children, which rescues children from the streets, restores them to their families and helps to rebuilds the families.
Using agri-business projects, Jonathan and Jess Bridges are reaching the Ethiopian people with the Gospel and positively addressing issues like poverty and child trafficking.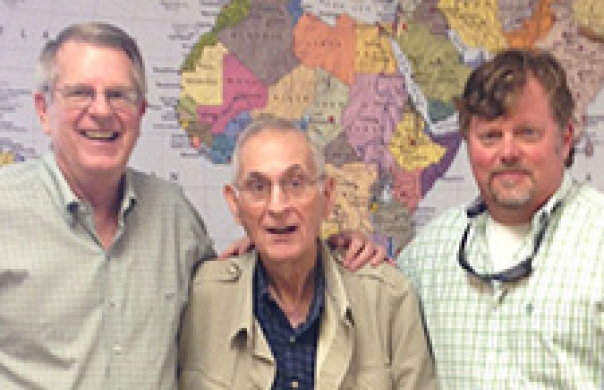 Gary Mitchell and Kenny Sullivan raised funds to start Cornerstone Baptist Theological Seminary in Yucantan, Mexico. They need your help for the seminary's ongoing needs.